Tours from Alexandria – Borg El Arab airport
Firstly, we ensure you are never left on your own. Our 'meet and greet' or pick up services take care of you from the very first minute your journey starts in Alexandria.
 We pick you up from inside the airport. We gain special permission to collect you, resulting in a prompt start to your exploration and peace of mind.
 We provide a 'back-up' car for every set of customers – ensuring that no matter what happens, you always have a vehicle to carry on your journey.
 Everything is planned in detail and we pre-empt all eventualities.
 You only pay IF you are satisfied and at the end of your trip. We were the first agency in Egypt to offer this customer-guaranteed service and hope this provides you with an example of Egyptian hospitality.
---
---
---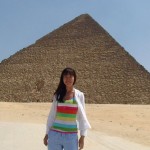 Day trip Giza Pyramids, Saqqara and Memphis
Tour to the Egyptian Museum, Islamic and Coptic Cairo
Alexandria Sightseeing  
Start from 210$
---
---